Rosewood Bird Gardens
& Breeding farms
Testimonials
Dear Barry & Julie,
I thought I would let you know just how my beautiful birds MOJO & SQUIRTZ live their life with me.
MOJO travels in the car with me to Melbourne where I privately nurse a lady who resides in ARCARE MANSION in north Brighton, Mojo is the main focus with Staff, Residents & the Doctors, with lots of photos taken. Also we visit my Mum & Dad, they live in a town 20 mins away from me (Kyneton). We walk our Dog Redgirl around the block & with looks off passer by's that can't believe what they are seeing. They come back for a second look.
Mojo is tethered on a light lead which is cockatoo chew proof, I can't use clips as the bugger can undo them. She is the most magnificent bird with love & affection I give her & she gives back.
Mojo get lots of exercises in my house to fly around & has a good stable diet.
Squirtz is such a funny character & so playful, talks like you wouldn't believe, her vocable is unbelievable, she says; "Give us a kiss, getcha feet, I love you, come on squirtz" & laughs with you too. She is also very affection & loving & spends most times with me even at times in the shower which she sits on top of the screening, she loves water.
Squirtz is very much a bossy girl & is not scared of Mojo, one day Mojo took one of Squirtz toys & gosh Mojo soon dropped it.
Well that's about it with bird talk for the moment, I will keep in touch with more progress at a later date. I also keep in touch with Laura about my birds.
Thank you for my beautiful birds, I'm so glad I bought them off you.
Love from Deb McKnight x. Trentham Vic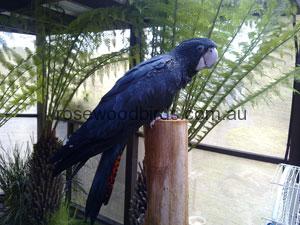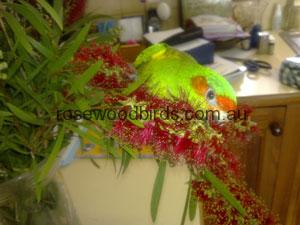 Another satisfied customer writes….
Last Breeding season we had a most rewarding opportunity, to hand raise a baby Magnificus Red Tail Black Cockatoo.
I would like to thank Barry for the support he offered us, there were many phone calls to him asking his advice.
He was always willing to pass on any of the amazing amount of knowledge he has on Black Cockatoos, and we found his help to be invaluable.
With his input into her raising, we now have a most beautiful well adapted young lady.
We purchased a mate for her from Barry, he is a lovely healthy young fellow with the most beautiful temperament, and again we thank Barry for his help and advice during his transition into his new home in our aviary.
Regards
Anne & Dick Piotrowski, Bathhurst NSW